Roofing Shingles
Cedar Roofing Shingles
Cedar Shakes Shingles
Western Red Cedar Roofing Shingles
Alaskan Yellow Cedar Roofing Shingles
Cedar Roofing Shingles | A Certi-Sawn red cedar shake is sawn both faces and offer a more smooth and uniform look. Western red cedar shingles are a natural, luxurious, and a low carbon footprint roofing product that has been used as a durable roofing material for over a century. Don't settle for imitation. Make the authentic choice!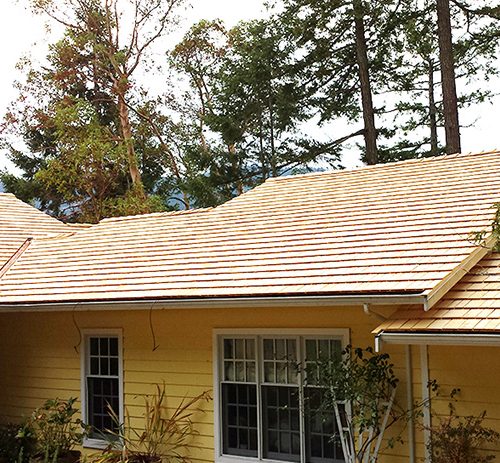 Cedar Shake Shingles
Cedar shingles have a reduced exposure to obtain a 3-ply roof system.
These top-grade shingles are 100% heartwood, 100% clear and 100% edge grain.
Available in 16, 18 or 24 inch lengths. The exposure to the weather varies with each length.
Shingles offer a smooth, tailored look.
All butt ends of shingles at Direct Cedar are cut with a circular cut-off saw. Direct Cedar also offers a shingle that is re-butted. This (A-butt) shingle is so smooth you can clearly see every growth ring at the butt end of the piece.
Cedar Roofing shingles provide superior weather protection from rain, hail and high winds. They are among the best insulating roofing materials on the market, keeping your home cool in summer, warm in winter, saving you money on your heating bills. The smooth sawn finish of cedar shingles provide a clean, natural look to any roof, adding character and value to your home. Available in Western Red and Alaskan Yellow Cedar, a cedar shingle roof will make your home stand out for decades to come. Give us a call today at 1-877-850-1767 or send us an email at [email protected] to find out more or to get a no hassle quote.